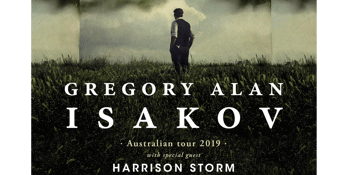 SBM Presents
Gregory Alan Isakov
with Harrison Storm
The Triffid (Newstead, QLD)
Wednesday, 6 March 2019 7:30 PM
Gregory Alan Isakov announces his first ever Australian tour, confirming a run of headline shows along with his appearance at Port Fairy Folk Festival this March!
Known for his soft, mellifluous crooning, poetic lyrics and acoustic finger picking, Isakov crafts a performance so full of nostalgia and beauty, you might forget what decade you're in.
Isakov wrote and recorded his forth full-length studio album, Evening Machines in a studio housed in a barn on his property in between farm duties. As its name implies, the dark indie rock and folk populating Evening Machines possesses a dusky hue. Hushed acoustic guitar and sparse piano combine for moody foundation that's amplified by ornate and heavy embellishments.
"There is a far away look that people get in their eyes and somehow Gregory Alan Isakov is able to capture that in a song" – Folk Alley
Evening Machines is simple to the ear. That simple presentation leaves nothing for Isakov to hide behind. He lets the stripped down nuances of his lyrics and musicianship speak for themselves; the results are deceptively straightforward but immense in their complexity.
Isakov has an ability to elevate the apparently ordinary to the undeniably sublime. He is the master of using references, whether words or sounds to indicate big themes, applying them to his sonic canvas to create feelings and emotions.
"Isakov invites you to a place you never want to leave"
– NPR
Isakov's sets are personal, raw and often emotionally charged. Australian audiences will have their chance to bask in the reverie when Gregory Alan Isakov lands on our shores this March.
Gregory Alan Isakov has confirmed Victorian singer-songwriter, Harrison Storm as support act for his Australian tour.
A native of the Mornington Peninsula, Victoria, and raised in a musical household, Storm spent his formative years soaking in the seaside splendour of his hometown, immersing himself in the sounds of The Beatles and Neil Young. As his musical ambitions grew, so did his influences, with artists like Matt Corby, Jeff Buckley, Angus & Julia Stone.
The title track of Storm's debut EP, 'Sense Of Home', placed prominently on key Spotify playlists, amassing an impressive 36 million + streams. This success across streaming platforms continued in 2017 with the release of his sophomore EP 'Change It All'. The title track again striking a chord with his growing fan base, being placed in NBC's hit TV show 'The Blacklist' and Freeform's 'The Fosters'.
With a sold out Australian single tour earlier in the year, Storm has continued to build a solid live reputation, previously supporting Josh Pyke on his regional Australian tour, but also sharing the stage alongside the likes of Michael Franti, The Cat Empire and Husky.
Storm's continued desire to connect with fans personally in a live setting along with Isakov's soft, mellifluous crooning, poetic lyrics and acoustic finger picking, will have audiences treated to night of musical mastery.
This is a show not to be missed.
EXCLUSIVE FAN PRE SALE BEGINS: Wednesday 24th October, 9am AEDT
Sign up here to access pre sale: https://sbmpresents.com/tour/gregoryalanisakov/
TICKETS ON SALE: Friday 26th October, 9am local